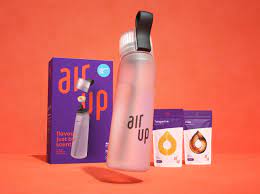 Air Up-Starter Set Pearl White with 2 Premium Pods
Description
A revolutionary new way to hydrate, with flavour stimulated through scent alone. This air up® starter set comes with a pearl white-coloured bottle, as well as 2 premium Pods (1x Kola, and 1x Tangerine). Tasty, healthy, and sustainable. No more single-use plastic with this reusable solution!
How does it work?
Each Pod flavours at least 5 litres of water, and we've included 2 Pods in your starter set, meaning you're already good for over 10 litres of flavour!
With the bottle holding 650ml of water, you'll be able to refill your bottle around 15 times with just the two Pods included!
That's the equivalent to: 20 bottles of fizzy drinks or 21 pints of beer! You do the maths.
THAT MEANS: You get over one week of tasty flavoured water*
| Winner Name | Ticket Number | Draw Date |
| --- | --- | --- |
| Janine Aziz | 29 | 01/08/2022 |
| Ticket Number | Date | Name |
| --- | --- | --- |
| 1 | 2022-07-29 16:20:04 | Melissa Barlow |
| 2 | 2022-07-28 23:42:01 | Cheryl Wright |
| 3 | 2022-07-28 15:27:48 | Amy Stephens |
| 4 | 2022-07-31 17:56:06 | Grace Leathem |
| 5 | 2022-07-31 17:16:05 | Tracey Frost |
| 6 | 2022-07-29 20:53:27 | Kelly Clarke-booth |
| 7 | 2022-07-31 18:28:56 | Amanda Sullivan |
| 8 | 2022-07-31 17:16:05 | Tracey Frost |
| 9 | 2022-07-31 12:51:56 | Cat F |
| 10 | 2022-07-31 19:05:40 | Susan Norton turner |
| 11 | 2022-07-31 11:55:22 | david chubb |
| 12 | 2022-07-31 18:52:32 | Sarah Roadnight |
| 13 | 2022-07-28 19:42:38 | John Huteson |
| 14 | 2022-07-28 17:51:33 | Becky Hartmink |
| 15 | 2022-07-30 14:12:07 | Janine Aziz |
| 16 | 2022-07-29 00:27:58 | Chloe Raisey |
| 17 | 2022-07-31 18:24:59 | Alicia Barnett |
| 18 | 2022-07-28 19:44:41 | Hannah Huteson |
| 19 | 2022-07-29 19:07:27 | Trina Gilderthorp |
| 20 | 2022-07-31 19:19:38 | Sarah Pridmore |
| 21 | 2022-07-31 18:52:32 | Sarah Roadnight |
| 22 | 2022-07-28 19:42:38 | John Huteson |
| 23 | 2022-07-29 00:27:58 | Chloe Raisey |
| 24 | 2022-07-29 16:24:01 | Melissa Barlow |
| 25 | 2022-07-28 19:29:34 | Michelle Harvey |
| 26 | 2022-07-29 20:53:27 | Kelly Clarke-booth |
| 27 | 2022-07-30 14:12:07 | Janine Aziz |
| 28 | 2022-07-28 23:42:01 | Cheryl Wright |
| 29 | 2022-07-30 14:12:07 | Janine Aziz |
| 30 | 2022-07-31 20:04:13 | Annette M |
| 31 | 2022-07-29 00:27:58 | Chloe Raisey |
| 32 | 2022-07-28 17:53:16 | L C |
| 33 | 2022-07-29 19:49:44 | Melissa Whittle |
| 34 | 2022-07-31 18:28:56 | Amanda Sullivan |
| 35 | 2022-07-28 19:42:38 | John Huteson |
| 36 | 2022-07-31 17:16:05 | Tracey Frost |
| 37 | 2022-07-31 11:17:51 | Sarah Bell |
| 38 | 2022-07-31 20:04:13 | Annette M |
| 39 | 2022-07-29 19:25:42 | Emma Collins |
| 40 | 2022-07-31 11:17:51 | Sarah Bell |
| 41 | 2022-07-31 19:32:02 | Dawn SOLECKI |
| 42 | 2022-07-31 19:06:09 | Karlie Usher |
| 43 | 2022-07-31 19:23:52 | Lisa Dockree |
| 44 | 2022-07-31 14:30:06 | Imogen Howes |
| 45 | 2022-07-30 14:12:07 | Janine Aziz |
| 46 | 2022-07-29 19:06:07 | Amy Lee |
| 47 | 2022-07-31 20:34:19 | Letty Gill |
| 48 | 2022-07-28 19:42:38 | John Huteson |
| 49 | 2022-07-28 23:42:01 | Cheryl Wright |
| 50 | 2022-07-31 17:16:05 | Tracey Frost |
| 51 | 2022-07-29 00:27:58 | Chloe Raisey |
| 52 | 2022-07-28 20:48:54 | Verity Bath |
| 53 | 2022-07-28 19:44:41 | Hannah Huteson |
| 54 | 2022-07-30 09:42:00 | Alicia Sandercock |
| 55 | 2022-07-28 15:27:48 | Amy Stephens |
| 56 | 2022-07-31 18:30:14 | Nichola Jordan |
| 57 | 2022-07-31 18:56:37 | Kerry Eldred |
| 58 | 2022-07-31 20:04:13 | Annette M |
| 59 | 2022-07-31 19:12:52 | Danni Fox |
| 60 | 2022-07-29 19:47:39 | Hermione Green |
| 61 | 2022-07-31 21:45:08 | Joseph Clifford |
| 62 | 2022-07-31 14:30:06 | Imogen Howes |
| 63 | 2022-07-29 13:47:10 | Sian Hadley |
| 64 | 2022-07-28 14:12:09 | Holly Gawrel |
| 65 | 2022-07-31 20:38:43 | John Huteson |
| 66 | 2022-07-31 20:04:13 | Annette M |
| 67 | 2022-07-28 23:42:01 | Cheryl Wright |
| 68 | 2022-07-30 14:12:07 | Janine Aziz |
| 69 | 2022-07-29 00:27:58 | Chloe Raisey |
| 70 | 2022-07-31 19:06:09 | Karlie Usher |
| 71 | 2022-07-31 14:30:06 | Imogen Howes |
| 72 | 2022-07-29 19:47:39 | Hermione Green |
| 73 | 2022-07-31 20:04:13 | Annette M |
| 74 | 2022-07-31 20:19:44 | Jenny Knight |
| 75 | 2022-07-31 14:30:06 | Imogen Howes |
| 76 | 2022-07-28 23:42:01 | Cheryl Wright |
| 77 | 2022-07-31 18:29:53 | Becky Edge |
| 78 | 2022-07-31 19:06:09 | Karlie Usher |
| 79 | 2022-07-31 17:16:05 | Tracey Frost |
| 80 | 2022-07-29 12:15:17 | Leigh Day |